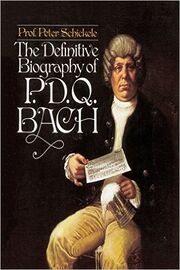 Peter Schickele's book, The Definitive Biography of P.D.Q. Bach, tells you everything you hoped you'd never know about the composer.
The book includes many photographs and (to use the word loosely) musical examples, as well as an annotated catalogue of P.D.Q. Bach's works that had been discovered up to 1976. The bibliography is fictional, but the discography (up to 1976) is real.
The book is available through Peter Schickele's website. An audiobook version, read by Schickele, is also available.
ISBN 0-394-73409-2 (pbk)
Table of Contents
Edit
Dedication
Preface
Preface to the English Language Edition
Foreword
Introduction
Author's Note
Acknowledgements
Table of Contents
I. P.D.Q. Bach's Background: Cause or Effect?
II. The World of P.D.Q. Bach: A Pictorial Essay
III. Man or Myth?" In Search of P.D.Q. Bach
IV. "Such a Horrid Clang": An Annotated Catalog of the Music of P.D.Q. Bach
Appendices

A. Map of P.D.Q. Bach's Travels
B. Map of P,D.Q. Bach's Public Performances
C. Charles Burney's Account of His Visit to Wein-am-Rhein in 1788
D. Bibliography
E. Analysis of the Two-Part Contraption
F. Discography
G. Glossary of Unusual Instruments Used by P.D.Q. Bach
H. The Bach Family Tree
Community content is available under
CC-BY-SA
unless otherwise noted.